Solivita - Kissimmee, FL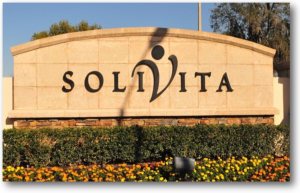 Do you have questions? Would you like more information?
Contact Alan Martin Today!
Direct/Cell: 407-832-4888
Email: Alan@frontlinefloridarealty.com

FOR CURRENT LISTINGS PLEASE SCROLL DOWN
Solivita Oveview
The Solvita resort, is an award winning, top voted resort, located in Kissimmee, Florida. There is a reason why this resort has won over 70 awards and has been named one of the nation's Top 50 master-planned 55-Plus communities by Where to Retire Magazine – Solvita is an innovative community, leading the way for excellence in community planning and building environmentally sustainable communities for the over 55's.
Solvita Location
The Solivita community provides residents both an ideal location in the right in heart of Central Florida's attraction zone and a peaceful resort setting with the resorts 4,300 acres. Soltiva offers residents the flexibility of being in close proximity to all the area attractions, shopping malls, restaurants and other point of interested, combined with first class activities and amenities within in the resort itself. Solivita is located just minutes from tranquil downtown Kissimmee, FL and less than 30 miles from the parks of Walt Disney World® and Orlando International Airport.
Solivita Homes
Solivita's Tuscan-inspired homes are attentively designed with over 55's in mind. With open floor plans, attached garages, fresh looking kitchens, covered lanais and more, you'll be sure to find a floor plan to fit your needs as there are 15 to choose from!
Courtyards Collection – Amaro and Avellino Models
Homes from the low $200's to mid $200's
2 bedrooms, Avellino model built with den, 2 bathroom and an attached 1.5 bay garage.
Square footage: 1,361-1481 sq. ft.
Garden Collection – Bergamo, Bolzano and Brescia Models
Homes from the mid $100's to high $100's
2 bedrooms plus an additional den, 2 baths and attached 1-2 bay garage
Square footage: 1,582 – 1,719 sq. ft.
Classic Collection – Cabella, Calabria, Caldes, Calto, Cambria and Castello Models
Homes from themid $100's to the high $100's
2-3 bedrooms, den available on some models, 2-2.5 bathrooms and attached 2 bay garage.
Square footage: 1,707 – 2,259 sq. ft.
There are additional models available through resale only, please scroll down to the bottom of this page to view current listings.
Solvita Lifestyle:
The Solvita resort has been designed so that all residents can easily navigate the resort by walking, cycling or driving a golf cart to the various amenities and activities the community offers. From the state-of-the-art clubhouse, various sports courts, the spa and fitness center, attending social clubs, taking a class or just relaxing by the pool – there's always something to suit your mood.
Solvita is most certainly a 'go-to' community for the avid golfer, the resort offers two stunning championship golf courses right on your doorstep!
The resort has a full-time on-site Activities Director and Lifestyle Team who are devoted to offering a wide variety of events and social clubs to meet the diverse taste of Solvita residents.
The Solvita resort offers an extensive choice of clubs, activated and classes, including but not limited to:
African Heritage Cultural Club
Alzheimers Support Group
All Animals Club
Advanced Sculpture
Artworks Multi-Media
Amateur Culinary Club of Solivita
Bella Viana Fun Club
Beginners Calligraphy
Beginners French
Big Money Bingo
The Birders
Bocce Boyz
Bridgers
British Isles Heritage Club
Buckeyes
Bunco
Cancer Support Group
Canasta
Ceramics
Canoe & Kayak Club
Caribbean American Association
Catholic Families of Solivita
Casual Club
Citizens Assisted Patrol
Computer Connection
Continental Society of Solivita
Cork & Bottle
Couples Canasta
Diamonds Softball Club
Dominoes Club

Dog Obedience Classes
Euchre
Fall Festival
Funtime Billiards
Garden Starters
Green Thumbs
Guys & Dolls
Health & Nutrition Club
Horseshoes
Indiana Friends
La Vita Bella
Ladies Poker
Long Islanders Club
Mahjong
Odd Fridays Bridge Club
Oldies but Goodies
Red Hatters
Shalom Club
Solivita Book Club
Solivita Cyclists
Solivita Fishing Club
Solivita Painters
Solivita Helping Hands
Solivita Olympics
Singles Club
Sureshot Camera Club
Yarners
Weight Watchers
Watercolors






























Do you have questions? Would you like more information?
Contact Alan Martin Today!
Direct/Cell: 407-832-4888