Heritage Hills - Clermont, FL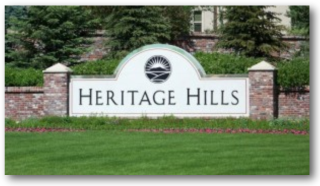 Do you have questions? Would you like more information?
Contact Alan Martin Today!
Direct/Cell: 407-832-4888
Email: Alan@frontlinefloridarealty.com

FOR CURRENT LISTINGS PLEASE SCROLL DOWN
Heritage Hills Overview
Heritage Hills is a master planned gated, active adult community located in the City of Clermont in Lake County, Florida. Heritage Hills boasts both highly convenient location, within close proximity to the major highways, shopping centers, movies, and supermarkets and an idyllic community setting, with its tranquil scenery, hills, parks, beautiful lake and wooded Gentle rolling green hills, sprawling parks, crystalline lakes, and wooded sanctuary – Heritage Hills , Clermont offers the over 55's a highly desirable community. This community is being constructed by Lennar Builders, who are renowned for building America's finest active-adults communities in America.

Heritage Hills Location
Heritage Hills is located in a perfect central Florida location! The community is set in a quiet and peaceful among Clermont's picturesque hills nearby Hartwood-Marsh, Hancock Roads and the Kings Ridge community. The Heritage Hills community location provides easy access to I-4, SR 408, SR 429 and the Florida Turnpike.
Clermont area attractions include: Florida's Iconic Citrus Tower, Sanctuary Ridge Golf Course, Lake Louisa State Park, The Presidents Hall of Fame, Lakeridge Winery and Vineyards, Clemont Historic Village and Showcase of Citrus, where you can pick your own oranges!
Heritage Hills is only 35 minutes from the Orlando airport, and 30 minutes the hub of Orlando, where all the major theme parks, restaurants, shopping and amusements are located.

Heritage Hills Homes
In 2006, Lennar began construction of the Heritage Hills, master planned 1,154 single-family and attached home, active adult community.
Attached Homes:
Villas Collection – St. Lucia, St Marten Models
Villas from the high low $200's to high $200's
2 bedrooms, 2 bathrooms and an attached garage
Square footage: 1,400–1,517 sq. ft
Single Family Homes:
The Manors – Prestwick, Columbus, Bonita, Normandy and Hamilton Models
Single-family homes from low $200's to mid $200's
3–4 bedrooms, 2-3 bathrooms and an attached 2 bay garage.
Square footage: 1,569–2,032 sq. ft.
The Executives – Merlot, Paulson, Kennedy, Lancaster, Doral, Monroe II, Sawgrass Models
Single-family homes from the mid $200's to low $300's
3–4 bedrooms, some models have a den, 2-3 bath and an attached 2.5-3 bay garage.
Square footage: 2,127–2,935 sq. ft.
The Estates – Ascot, Tamarack, Devonshire, Kennedy, Lancaster, Monroe II Models
Single-family homes from the mid 200's to low $300's
3–4 bedrooms, 2-3 bathrooms, some models have a den and an attached 2-3 bay garage.
Square footage: 1,779–2,615 sq. ft.
Heritage Hills Amenities
Aerobics studio
Library
State-of-the art golf simulator
Tennis, basketball, bocce and shuffleboard courts
Professional putting green with sand trap
State-of-the-art clubhouse
Community center
Fitness center
Fully maintained lawns
Gated and guarded community
HOA
Heated swimming pool
Hot tub spa
Walking trails
Clubhouse Lifestyle Coordinator – in charge of events, activities and clubs.
Do you have questions? Would you like more information?
Contact Alan Martin Today!
Direct/Cell: 407-832-4888
Email: Alan@frontlinefloridarealty.com